Getting ready for closing day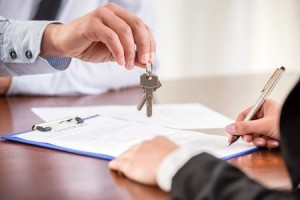 Ready to close on the purchase of your home? Congratulations! Closing day can be exciting — but also a bit overwhelming. Here are some of the things you can expect when you meet to finalize your home loan.
A lot of signing and initialing. Carefully read your closing disclosure information. Take your time! None of the numbers you see at closing should be a surprise. Double-check that items such as your loan, loan amount, loan term, estimated total monthly payment and mortgage rate are what you expected. Don't feel rushed at any time while you're reviewing your closing documents. Take your time to read through all of your paperwork before signing or initialing.
Plan to spend enough time reviewing documents. Closing on a home purchase is probably not something you'll be able to successfully squeeze into a lunch hour. This is not the time to rush through things. Plan to spend 1-2 hours on closing day wrapping up what could be the biggest purchase you will ever make. It's well worth the time you'll invest in the process.
Pay your downpayment and/or closing costs. At closing, you'll be paying for your share of the closing costs and any down payment. If you need private mortgage insurance, your first month's premium also will be due. For your closing costs, you'll need to bring a certified check or cashier's check. Don't worry — you'll get the exact amount you need to bring with you a few days before closing. At closing, you also will be required to show proof of identification, such as your drivers license or passport to prove that you're you.
Provide proof of insurance: You'll also need documentation proving you have obtained homeowner's insurance, and if it's also required as a condition of your loan, flood insurance. Most lenders require you to pay one-sixth of the annual insurance premium at the closing, to be placed in your escrow account.
Once you've completed the process of closing, your home purchase will be recorded with the appropriate county or other government entity. That's why your closing costs include a recording/government filing fee. This fee pays for the cost of officially filing your property information at the local county courthouse; including recording your ownership and transferring taxes and documents to your name. Once that's done, you get the keys and you're officially ready to move in!